A ROMANTIC'S WEDDING DAY ACCESSORY ~ HORSE-DRAWN SERENITY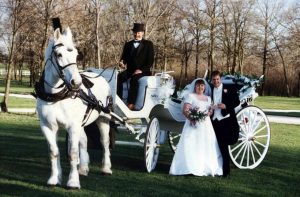 Create a touching delivery to the altar or a heartwarming closure to the ceremony as bride and groom depart nestled in a radiant carriage drawn by a majestic horse. Jim & Becky, with their horses and carriages, do just that … plus more.
Our meticulously clean horses and carriages arrive on time and can fulfill the same practical function as a limousine ~ with far more romance. Horse-drawn transportation from home to ceremony site, from ceremony site to reception, or to meet your individual request.
Allow about 10 minutes per mile when traveling within 3 miles. Some of our horses are capable of distances exceeding three miles while keeping within your time schedule. Realistically, the total distance to be traveled by carriage should not exceed 6 or 7 miles; even the faster horses can only travel so far, so fast.
Regardless to how near or far, a jaunt in one of Jim & Becky's carriages is a true pleasure – certain to be one of the highlights of the day.
Add one of our horses and carriages to an outdoor wedding … sensational!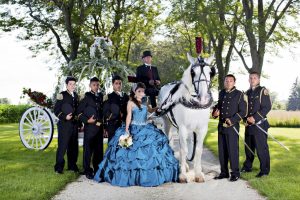 Phenomenal portraits are achieved using our horses and carriages as a backdrop. If time permits, why not plan on stopping at a scenic spot for a photo session?
JIM & BECKY APPLY THE SAME ENTHUSIASM
TOWARDS OTHER NOTABLE EVENTS:
Cotillions ~ Quinceaneras ~ Sweet 16
Marriage Proposals
Anniversary/Birthday Celebrations
Proms & Graduations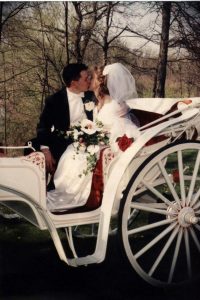 As you can see by the images throughout this website, our carriages are gorgeous and most accommodating, with features of the highest caliber.
What you see IS what you will get!
White Vis-À-Vis Wedding Coaches are pulled by one horse, seats up to four adults very comfortably. These carriages can be open, covered or completely enclosed … tailored to be enjoyed rain or shine.
Cinderella Pumpkin Coach is also pulled by one horse and seats four adults. This unique fairytale themed carriage does not provide full coverage, making it a fair weather vehicle.
The timeless elegance of our horses and carriages bring about a charming quality that cannot be matched by other modes of transportation.