TRAVEL BACK IN TIME FOR SOME GOOD OLD-FASHIONED FUN!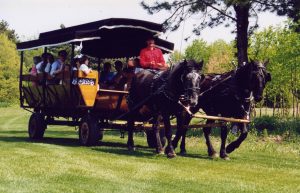 Step aboard Jim & Becky's charming horse-drawn carriages … and you've instantly transformed your family, community or business function into something special!
Over the years, thousands of satisfied customers have appreciated our commitment to excellence, extensive experience and attention to detail. We work closely with you to ensure that your event will run smoothly … that your guests will be delighted … and that memories of the horse-drawn festivities will linger long after the day itself.
Huge assortment of superb carriages provides year-round entertainment and accommodate from four to twenty adult passengers.
SINGLE HORSE CARRIAGES: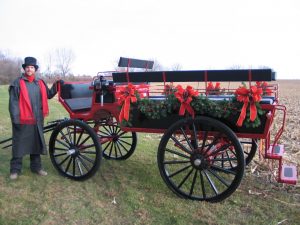 Vis-À-Vis Coaches ~ 4 passengers very comfortably; open – top down, covered – top up, or enclosed – top up with side curtains and doors
Vis-À-Vis Sleighes-On-Wheels ~ 4 passengers; open, travels on paved surfaces with or without snow
Cinderella "Pumpkin" Coaches ~ 4 passengers; open/fair weather carriage
Canadian Wagonettes ~ 8 passenger open carriage
White Covered Cabriolet ~ 8 passengers
Small Covered Wagon ~ 8 passengers
High Wheel Wagonette ~ 10 passengers; open
Covered High Wheel Wagonette ~ 10 passengers; enclosable
TWO HORSE CARRIAGES:
Western Ride Wagon ~ 14 passengers; open
Connsetoga-Style Wagon ~ 16 passengers; covered
Covered Trolley ~ 16 passengers
Large Wagon ~ 18 to 20 passengers; open or covered
UNIQUELY NOVEL CARRIAGES:
Western Stagecoach ~ 4 to 6 passengers
Ornate Open Hearses ~ black or white
Glass Enclosed Hearses ~ black or white
~ SEE ALL THESE CARRIAGES ON OUR GALLERY PAGE ~
Our carriages are equipped to travel any public street and most will fit paved or gravel lanes and trail ways. Sorry, we cannot service the downtown area of Chicago
~~~~~~~~~~~~~~~~~~
QUALITY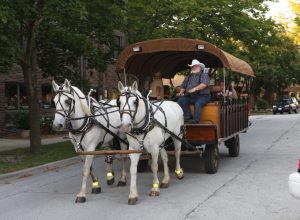 For the most discriminating tastes, our carriages are purchased new with emphasis on authenticity, quality and serviceability
All horses and carriages are properly maintained and clean
Our personable experienced drivers are in appropriate attire
~~~~~~~~~~~~~~~~~~
RELIABILITY
We take pride in exceeding your expectations. We offer counsel during the planning stage of your event … and arrive promptly the day of
Jim & Becky are fully insured. A Certificate of Insurance is available upon request
Quotes are available by phone or email; written proposals are available by fax or mail