HERE'S WHAT OUR CLIENTS HAVE TO SAY
OUR WEDDING SERVICES ARE THE "FROSTING ON THE CAKE" …
BUT DON'T TAKE OUR WORD FOR IT!
"All I can say is WOW! Your service was excellent and the carriage was beautiful. You truly helped to make our fairy tale romance come true!"
– TM
"Using your carriage service just put our day over the top! We appreciated your efforts in posing the horse properly for photos. We loved Jim's tux and top hat – it added the perfect touch! Our photographer and videographer got some wonderful shots with the horse & carriage that we will cherish forever. We admire your enthusiasm and professionalism."
– CJ
"The carriage was the 'frosting on the cake'. It was the perfect touch!"
– SK
"Thank you for your horse and carriage services on our wedding day. It got so many ooh's and aah's and really made me feel like Cinderella. Thank you!"
– KW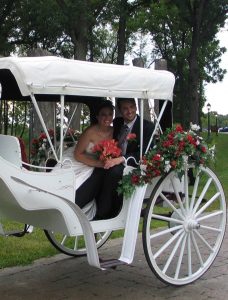 "Thank you for making our day so beautiful and magical. The carriage was impeccable. You made our wedding day picture perfect and my childhood fantasy come true!"
– SM
"It's been a couple of weeks now since the wedding, and guests are still talking about the horse &.carriage. It was a wonderful ride; people came out from all the restaurants to take a look. I could go on and on about all of the wonderful comments we received, but I just wanted to thank you for helping to make our wedding more than I ever dreamed."
– DM
"Thanks for making our daughter Kelly's wedding day so special. She looked like a princess and it was fitting she rode to church in a white carriage. The kindergarten class was so excited to see their teacher and her Prince Charming ride off."
– RN
"Thank you so much for helping make Evie's 'Princess Birthday' wish come true! The Cinderella Carriage made the event magical for Evie. All of her family and friends felt like they were arriving in style. Thank you, as well, for staying and allowing all the other guests to take a short ride. I can't tell you how grateful we are at Make-A-Wish and how much you impacted the life of this little girl!!"
– KB
"I just wanted to follow up with a brief thank you for your outstanding service. Our driver Buzz was ready to go with the carriage and Smoky at least 20 minutes early, preventing any potential worries. The carriage was beautifully decorated and impeccably clean. Buzz and Smoky were both more than happy to be included in our wedding pictures and made for some memorable shots. I was amazed by how much attention we received from everyone that saw us enroute. People stopped to wave and wish us well. Once again, thanks for providing a unique, memorable and fairly priced experience that exceeded our expectations. I would gladly provide a reference to any potential customers. "
– SH
"Thank you for such a wonderful service at our wedding. Everyone was ranting & raving about the Cinderella Pumpkin Carriage. Mike's grandparents loved it! Thanks for giving them a ride as they are celebrating their 60th wedding anniversary. The coachman was so patient in the heat!"
– MR
"For as long as I could remember I have dreamt about my wedding day. I always wanted to have a beautiful princess wedding, and no princess wedding is complete without a horse carriage. Thank you so much for making that dream come true. The horse and carriage that took us to our reception were beautiful, and the driver was very nice. It was a very magical moment for us, and we want to thank you for making that happen. The whole process was very easy and everyone we talked to was very nice. We will definitely recommend you to anyone that ever needs a horse carriage."
– AK
OUR COMMUNITY & BUSINESS EVENT SERVICES HAVE PARTICIPANTS "ENTHRALLED" …
BUT DON'T TAKE OUR WORD FOR IT!
"We just wanted to send you a note of thanks for helping us make our St. Patrick's Day celebration a success at the Christmas Inn. Our guests were completely enthralled by the carriage ride. They all commented on the comfort and beauty of the carriage. We felt a sense of pride inselecting you to handle this very special gift for our guests."
– TS
"The Plainfield Area Chamber of Commerce organizes Harvest Fest, but that in itself does not make the event a reality. It is companies such as yours that support Harvest Fest that guarantee its success. We have had nothing but positive feedback!"
-ND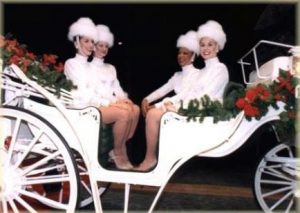 "Thanks for the excellent work & cooperation in making Opening Night of the Radio City Christmas Spectacular a smash success!"
– AP
Jim &. Becky's provided five white carriages for the
Opening Night promotion in Chicago for the Rockettes.
"I can't thank you enough for sending us not only the most beautiful carriage I've ever seen, but the nicest driver and sweetest horse. It was by far the hit of our block party fundraiser!"
-KR
"Once again, I'd like to thank you for making Mother's Day special! The nursing home residents and their families enjoyed the carriage rides. A special thanks for your patience and kindness inhelping to make it a most memorable day."
– RG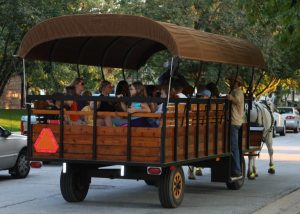 "We appreciate your participation in our Pioneer Day Festival. The horse drawn wagon was a huge hit with our visitors and everyone is clamoring to have you return next year … please pencil us in. It was so magical to see that wagon coming down the street. On behalf of the Elk Grove Historical Society –  Thank you! Thank you!"
– DT
"I want to compliment you on your horse and carriage ride. It made our 'Senior Prom' a huge success. The carriage was so clean & inviting and the driver was such a nice, polite young man. I'm sure we will be using your service again."
– CS
"I want to thank you for coming to our Bensenville Holiday Magic Christmas tree lighting. It was such a joy to see smiles on the faces of people in this community as they watched those two handsome fellows clip clop down the streets dressed so fanciful! Each year my daughters look forward to seeing those massive Percherons. Thanks for the wagon ride – see you next year!"
– MM
"Thank you for an outstanding 'performance' at Brighton Gardens Assisted Living Fall Festival. The residents, families and guests enjoyed the wagon rides and the horses. Your participation truly rounded out a wonderful event."
– KE
"On behalf of the South Suburban Chapter of Jack and Jill of America, thank you so much for your outstanding service at our Christmas party at the Flossmoor Country Club. Your carriage rides and personable service made our event memorable for everyone!"
– OB
"On behalf of the Frankfort Chamber of Commerce I thank you for hosting the August Business After Hours. Your elegant carriages and perfectly groomed horses lend a fairy tale atmosphere to every event in which you participate. The preparation that is required for you to host an event is daunting and proves that you definitely love your work."
– SM