ELEGANT HORSE-DRAWN SERVICE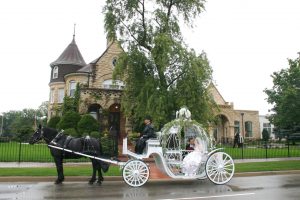 Jim & Becky is a locally owned horse and carriage rental company ~ located in Peotone, IL with easy interstate access for prompt delivery to any Chicagoland location.
We have earned the title "The Wedding Specialist" by providing pristine quality built Wedding Coaches. Couple that with strikingly handsome horses bred, trained and conditioned to safely deliver in grand timely fashion … they can "hoof – it"! Our horses "trot" on average 5 to 7 mph. Transporting a bridal couple distances of 3 to 6 miles while keeping within their time schedule is not at all uncommon for us. Traveling further distances are not unheard of either – yet regardless to how near or far, a jaunt in one of Jim and Becky's carriages is a true pleasure.
WHAT CONTRIBUTES TO OUR SUCCESS?
All phone calls are answered by Jim or Becky. Return calls to voicemail messages are made promptly. Becky typically checks emails twice daily and replies to them immediately when possible, otherwise within 24 hours.
Horse and carriage inquiries are addressed expertly … thanks to decades of experience in the business, having participated in thousands upon thousands of weddings and special occasions
Even though logging onto our website allows one to see the most beautiful carriages in Chiacgoland, we welcome and encourage potential clients to visit our facility to meet us, see all the carriages and horses, and observe our extensive operation. Visits are by appointment only
Our clients can rest assured that what they see IS what they get … and competitively priced
We contact our clients via phone the Tuesday or Wednesday before their event to confirm the scheduling information provided on the previously received reservation form and to go over final details
We show up on time! It is typical for us to be ready and waiting earlier than scheduled
We work well with the photographers and videographers, assisting in the posing of the horse and carriage for phenomenal portraits
Simply put – when our horse and carriages contribute to the success of an event, that in turn contributes to our success … we appreciate the opportunity to create your unforgettable memories
WHAT CONTRIBUTES TO OUR STUNNING APPEARANCE AND PERFORMANCE?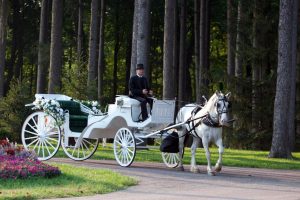 Utmost care and attention is given to both our carriages and horses … everyday
Carriages are housed in climate-controlled buildings, and then delivered in completely enclosed trailers.
Horses have constant access to acres of green pastures, clean paddocks, and comfy over-sized stalls.
It's obvious all carriages are cleaned and horses thoroughly groomed prior to each outing
Your driver/coachman will arrive dressed appropriately for your event
An incredibly wide range of impressive carriages to
select from including the regions only "real" Cinderella Pumpkin Coach
OUR HISTORY
Jim & Becky were married in 1977, at that time Becky owned two riding horses. Jim bought a doctors buggy and they trained one of the horses to pull it. Little did they know that by providing that horse and buggy for a friend's wedding in 1978, it would mark the start of their business. That was also the year their first child was born – Lauren, then came Luanne in 1979 and in 1980 … Jimmy. Currently, Lauren is a physical therapist, Luanne is an accountant and Jimmy is a remodeling contractor.
Since those early days, Jim & Becky have strived for excellence and attention to detail, literally participating in thousands upon thousands of weddings and special occasions. Jim and Becky are well known throughout the wedding industry.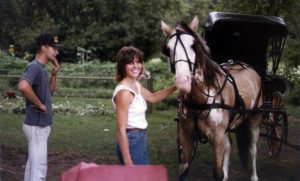 ~Jim and Becky in 1978 with Becky's riding horse Genesis~