VINTAGE HORSE-DRAWN HEARSES ~ FOR PERSONALIZED, ELEGANT FUNERAL PROCESSIONS
We believe that the final tribute to our loved ones should be as unique and memorable as the lives we seek to honor. The stately procession of our dignified horse-drawn hearses provides an opportunity for calm and meaningful reflection just prior to the farewell service.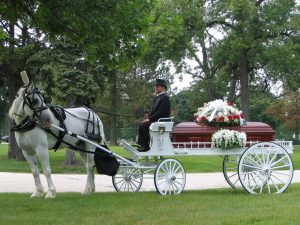 ~~~~~~~~~~~~~~~~~~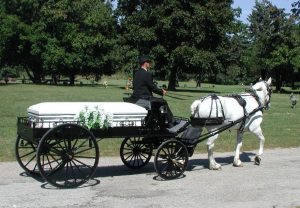 Some families prefer to utilize our services from just inside the cemetery entrance to the chapel, mausoleum or graveside
If the distance is feasible, our services may also be utilized from the funeral home to cemetery, or church to cemetery
At the cemetery, family members and friends may choose to walk behind the hearse
Open hearses and enclosed hearses of either color – black or white are available
Our distinctive hearses and horses are accompanied by formally attired coachmen
~~~~~~~~~~~~~~~~~~
Recognition of loved ones after they have passed
is a unique situation that Jim & Becky handle with respect and distinction
~~~~~~~~~~~~~~~~~~
Please go to GALLERY'S page 5 and 6 for more hearse images.