SIT BACK AND ENJOY NATURE AT ITS BEST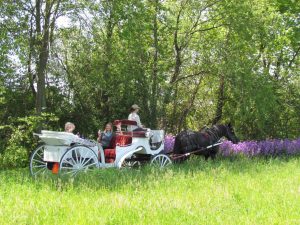 Mansell Homestead, nestled off a quiet country road in Peotone, is home to Jim & Becky's horses and carriages. This serene 26-acre farm is only about 40 minutes south of Chicago's loop.
~~~~~~~~~~~~~~~~~~
Couples or a party of four are invited to take in the sites, scents, and sounds of honest to goodness rural atmosphere while enjoying a relaxing respite from their busy lifestyle as our horse-drawn carriage takes them along quaint country roads and on to the wooded and pastoral nature trails of Mansell Homestead
~~~~~~~~~~~~~~~~~~
When the snow falls, the homestead turns into a Winter Wonderland. For an unforgettable experience, enjoy an old-fashioned "one horse open sleigh" ride. Couples or a party of three snuggle up under toasty sleigh blankets. Sleigh bells jingle as the sleigh glides through endless scenic trails … certain to take your breath away.
~~~~~~~~~~~~~~~~~~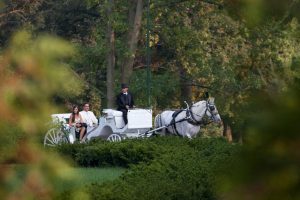 Native wildlife sightings from the homestead are very common. An abundance of natural habitat including savannas, wooded creeks and two natural ponds … it's a nature sanctuary to a wide variety of feathered, furred and aquatic animals.
Our country carriage rides and sleigh rides are all private and by reservation only
A 40 to 45 minute carriage ride for up to four or sleigh ride for up to three is $140. Both Jim and Becky have a tendency of venturing out a little longer than that, but no one seems to complain.
Treat a relative or dear friend; they'll truly appreciate the experience
Marriage proposals … a sure fire way to pop the big question. No one, as yet, has declined!
Jim & Becky reserve the right to limit visitors to small intimate groups and will consider inquires from parties of up to eight

WE LOOK FORWARD TO YOUR VISIT!